Transcription Interview Cory gallant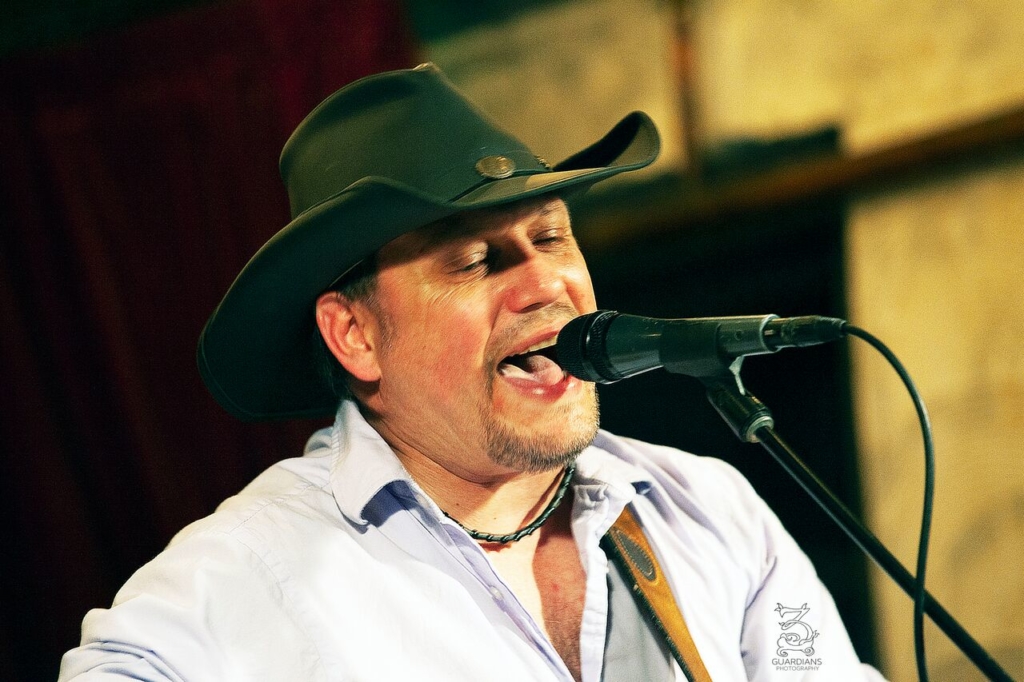 This reviewer had a chance to sit down with Cory Gallant a country singer while he was in town and ask him a few questions about his life, his goals, and his upcoming single and Album. Have a look below.
Reviewer: In the business, how long have you been in the field?
Cory: Playing professionally, if you want to call it professionally it's been 18 years. Yah, so I've been doing it for a while. I use to play in a bar band in Ontario, back when I first started out, and then I worked in a tribute show that went all over the world, as far away as Japan for 5 years. From there I took a hiatus for a while, and I moved back to the East Coast. I'm from Prince Edward Island…
Reviewer: So you are Canadian?
Cory: Oh yeah hahaha, my guitar player and I are from the East Coast. So from there I went back to school and became a Paramedic, so I worked on the ambulance back home. I then went on to start this project and now I'm on tour doing my original stuff for an upcoming record, of which the first song will be released May 27, 2019.
Reviewer: So you said you were a Paramedic, did you find that the music trumped paramedic, or was being a Paramedic just an income to cover for the music?
Cory: I came to the point, where I stopped the tribute stuff and the bar band that I needed to get a real job. Something with pension because I wasn't getting any older, so I went to school for that and I've been doing that for 9 years now. It's only been the last year and a half that the music has really taken off again, so its kinda a start up again after the hiatus thing. So now we are at a level that it's ready to take off I think, you know with this tour this alone, we played a few gigs in the US and I'm signed on with a management company out of Seattle. Trish Richardson is my manger and she is setting this all up and we are really excited about the album release and to see where it goes.
Reviewer: Now you said Album release, has that just been released or is it about to be released?
Cory: Nope, it hasn't been released yet, the single is going to be released on the 27th of May to the radio.
Reviewer: okay so it's still coming up then, we haven't missed it?
Cory: *laughs* no haven't missed it. We haven't really set a date for the Full album release yet. We will probably release 3 singles off the record, so the first one is on May 27, probably have album release back in PEI to kick things off, but nothing is set in stone yet. You will be able to get everything on Spotify, iTunes and all the social media platforms.
Reviewer: So will this new single be available on Spotify on the 27th?
Cory: yes it will be there.
Reviewer: So how would you describe your music?
Cory: Umm … the sound that I have, or would compare it to would be the more 90's country than today's country music. I'm a big fan of Waylon Jennings and George Jones. I grew up listening to them and I also have a duet on the record with George Jone's daughter Georgette. I think the sound is, it's' not a bro country and there are a lot of great artists out there, like the Luke Bryans or everyone that do that, and that's' great music. Mine is more along the lines of the Travis Tritt's from the1990's and Alan Jackson and that era. Then that can lead to a lot of stuff … like I have a vinyl record player at home, and it's always Waylon Jennings, Merle Haggard, George Jones, so yeah that's more or less what it is. The album is really Guitar Heavy, with a lot of Electric guitar and Steel guitar, and a little bit of fiddle. So it's a pretty raw sound.
Reviewer: So is it true you are an award winner?
Cory: Well, I'm not a CCMA award winner but a CCMA National Contest Winner. I won the, what they call a spotlight artist competition, so I signed up for that, and I was up against 10 other acts across the country. It was all vote based on the internet and it was only one vote time per ip address. I really didn't think I had a chance coming from such a small province and against some great artists across the country. But low and behold I gathered the most votes, so I won that. That enabled me to go up to the CCMA's and the CCMA's weekend in Hamilton last September. There I was able to do some songwriting, meet some people and really get on this project and get things going.
Reviewer: With this project, how far do you want to go with this?
Cory: Number 1!
( Both laugh)
Cory: That would be great.
Reviewer: okay so what would be the next step then to reach that goal?
Cory: I want to keep playing. Once we get the single out there and hopefully people like it. I think they like it, as it's really a great song and really we have 11 great songs on the album. They aren't all mine. I originally wanted to go in there and write the whole record, which I found out was a bad idea. Not all the songs I write are going to be good enough to make the record. So I have 2 of them on there, one that I wrote on my own and other I wrote with Trisha, and I have 9 more from other great artists from across the country, and some from Nashville, and it really was the best 11 songs to make this record with. It flows well and really does give the sound that I wanted everyone to hear.
Reviewer: so with this album, most artists tend to have their own style, so with this collaboration what style do you think this record will really hold?
Cory: I would go back to Travis Tritt's era, 90's era, very raw. These 11 songs are original songs that no one has ever heard before. They are songs that I co-wrote, and writers at the CCMA's and the people they put me in contact with like writers from Nashville. I probably got pitched… 75 song for the record, and then from there I just whittled it down; picked the top 20 from there while in the studio ended up with the top 11. So when you listen to the first song, the upcoming single " We Both Bleed " it takes you on a bit of a journey. I really don't know how to explain it until you hear it. At the end of the record, from the people that have heard it like family and other people in the business, which they have said; "Once you hear it to the end, you want to start it over again." Which were a great compliment for us and the record?
We are playing in Stan Minton Washington in August on the 24 or 25th whichever is the Saturday is, then the next weekend we are playing with Waylon Jennings Grandson, so we are sharing the stage with him and try and book a few more with him, so that is a great opportunity and do well and open for a guy of that stature, and make that connection and friendship.
Reviewer: Wow that is great. So if fans want to follow you and find out where and when your next shows are, where should they find that information?
Cory: I have a website, www.corygallantmusic.com and facebook and Instagram are @corygallantmusic. That would be the best place to contact me, I kept them all the same so if you type it in you should be able to see it. Check those out for what's going on in our world to find out our schedule and contests and giveaways and whatever else is going on.
Reviewer: Wonderful! Thank you for your time.
Cory: Thank you.
By Sarah Diamond