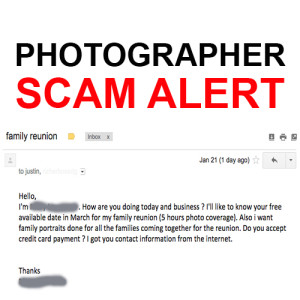 Some of you might find it hard to land gigs as a photographer, Just wanting to share something I have experienced recently about a new scam going around on the Internet.
First email:
I'm _______ How are you doing today and business ? I'll like to know your free available date in March for my family reunion (5 hours photo coverage). Also i want family portraits done for all the families coming together for the reunion. Do you accept credit card payment ? I got you contact information from the internet.
Second email:
Thank you for the swift response. I want you to check if you have available weekends between March 1st-30th. If you have a date open i want you to work on the estimate cost for the 5 hours photo coverage from 11am-4pm, and 6-16×20 prints family photo portraits because  we have 6 families coming together for the reunion event. The event will be held locally here in the state about an hour or two drive from your location, i will cover the travel expenses. I got your information on the internet and i hope you can handle this event. I'll be making 60% down payment in advance with my credit card to book the date also i will forward you the event venue once the event planner book the hall. I will be looking forward to read from you with the estimate ASAP.
When i responded back to her and asked where will it be? She didn't answer that question.
I have enclosed a screenshot of what I have received by someone in an email about a family reunion 5-hour session. If you have any questions feel free to contact me and I can explain how I researched this SCAM.
When they sent me this email they enclosed another photographers email as well. For more information trending on this scam click here.