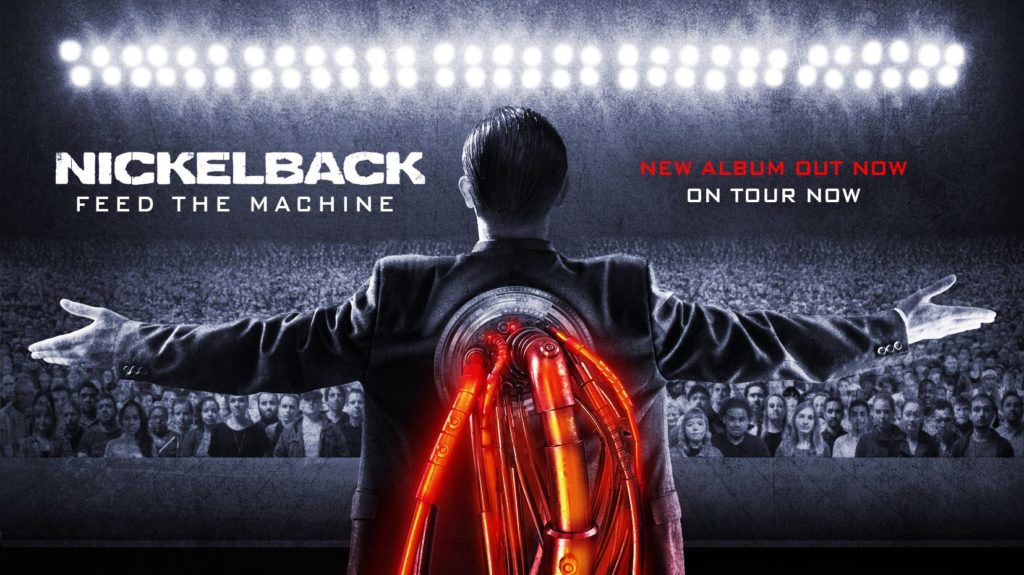 Haters gonna hate but Nickelback sure knows how to quiet them and the Fans know how to show their love for the band – A packed out Rogers Arena on a Sunday night! It started out like a typical concert.  The arena goes dark, the stage lights up, the music starts to beat, the band walks onto the stage and the crowd goes wild.  Nickelback opens with their ninth studio album title song "Feed the Machine".  A very strong and powerful song, gets the crowd engaged.
When the song ended, Chad Kroeger, lead singer, had a huge smile on his face as he looked around at everyone in the floor seats and said "I know you, I know you, and you…..I feel like I have served most of you drinks at my house".  And that's when the concert turned from just another show in front of fans to an more intimate personal jam-like session for friends and family even though there were tens of thousands of people in attendance. 
The Vancouver show would be the last show of this tour, 44 dates in 100 days all across North America.  They talked about being exhausted from all these shows and from lots of partying I'm sure but they did not show it.  They rocked it out hard the whole 2 hour concert. Playing all their hits like Rockstar, Far Away, Something In Your Mouth and many new songs.  It's always a fun show when you know most if not all of the words to these songs. When it was time to sing "Photograph" Chad brought 2 people from the audience to do a Karaoke sing-along with the band while personal pictures of the bands life played on the big screen behind them. "How You Remind Me" became a song that the fans sang to the band.  Start to finish we knew all the words and sang it loud and proud.
Nickelback was formed in 1995 in their hometown of Hanna, Alberta but Vancouver has been their home for quite some time.  The band consists of Chad Kroeger, lead vocalist, guitarist, keyboardist and backing vocalist Ryan Peake, bassist Mike Kroeger, and drummer Daniel Adair. I learned something new about Chad that night.  He was in a cover band in Hanna, Alberta called the Village Idiots.  So it was pretty cool when Chad invited 2 members from that band, Scott Rocker Holman (Curds & Whey) and Sean Watts (Punch Drunk Cabaret), to join him on stage a sing a song they used to sing together back in the day. This personally was the highlight of the night for me.  They kicked ass. 
Many things have been said about Chad and Nickelback, good and bad, but you can tell that they truly appreciate their family, friends and fans and where they came from. Where ever they ended up after the show, I'm positive it was a huge party and many drinks bought for everyone there.  It was a great concert.
Review By: Kelly Findlay