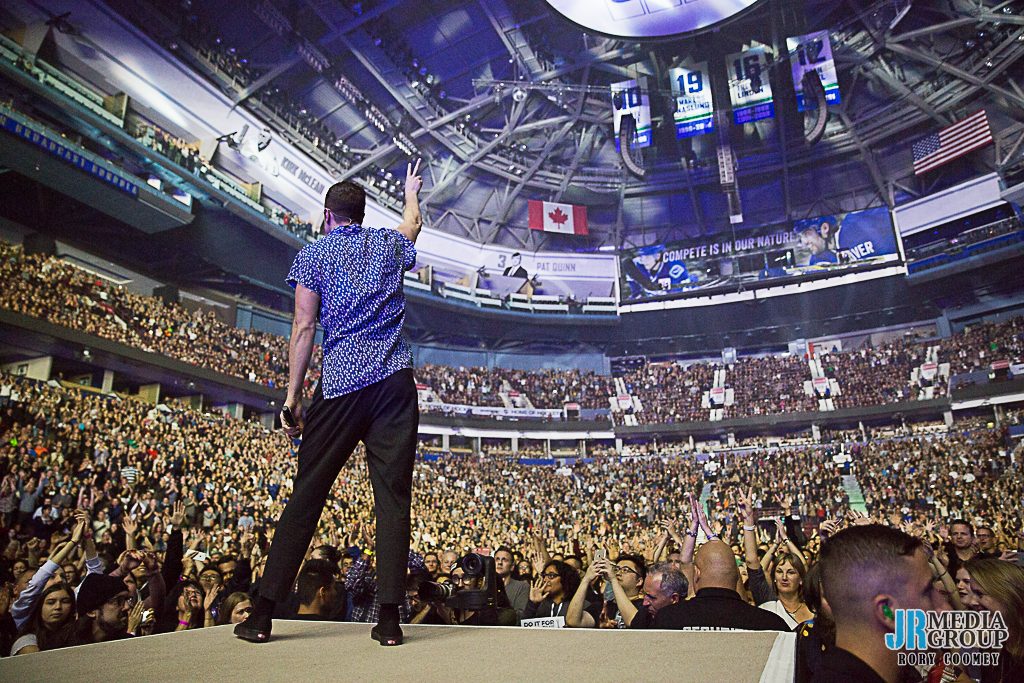 When something is Radioactive, you know it means it is something that causes emissions towards something. It can infect others, and yes it's dangerous. Imagine Dragons are totally radioactive. They emit positive vibes, the need to sing along, and are dangerously infectious of getting their songs stuck in your head.
The introduction to the band was slow music, strobing lights, pulsing drum, sounds of electricity crackling and a video that showed us going back into time to the start of Evolution. The fog built up over the stage and poured over wherever it found a spot. The main singer came out and began to sing in a rainbow of lights. The background of the stage had Crystal triangles that lit up in many colours and at one point even had muticoloured lasers inside them. Out towards the audience was a mini catwalk of which the viewers could be up and close almost at touching distance.
This show was a very interactive one. The band was in constant need of the audience to sing along with them and they most willingly obliged. Together they sang "It's Time" of which an entire verse was sung acappella and everyone knee and chest slapped in rhythm. The three white panels on the floor changed colours from the lights above. Different lights and fog kept the show visually stunning.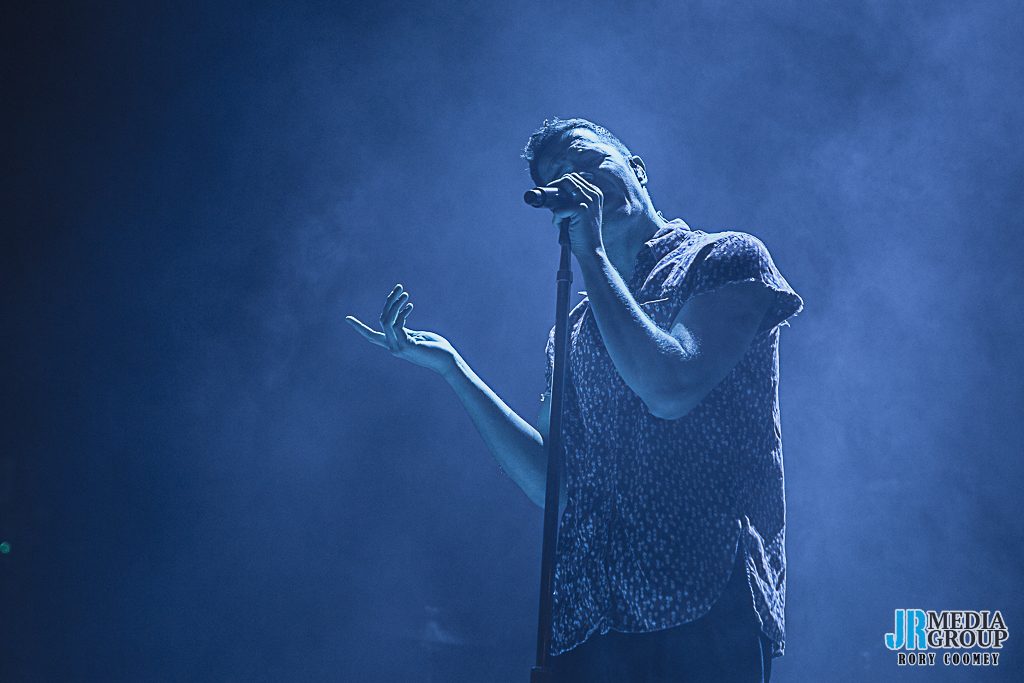 The lead singer, Mr. Reynolds, had many little tidbits along the way concerning either how the music was created, or thoughts of how his music relates to himself now as he has just turned 30. Once he turned this age, he realized he had overcome one of the major things he struggled with growing up and some of the regrets in his life. As of the performance night, he said, "I have zero regrets right now, and I have learned regret is worthless."
"Yesterday" though the song on Itunes appears to not be as popular as some of their other songs, the performance of this song says something different.  Everyone there would shout "Yes-ter-day!" every time clearly showing at that moment, no one had any regrets joining in the singing as one.
The show also had bubbles and bubble shaped confetti throughout the stage area, light up balloons that bounced around the arena during "On Top of the World" of which all ended up on the stage with the band, who, very skillfully was kicking them off and didn't losing pace with song.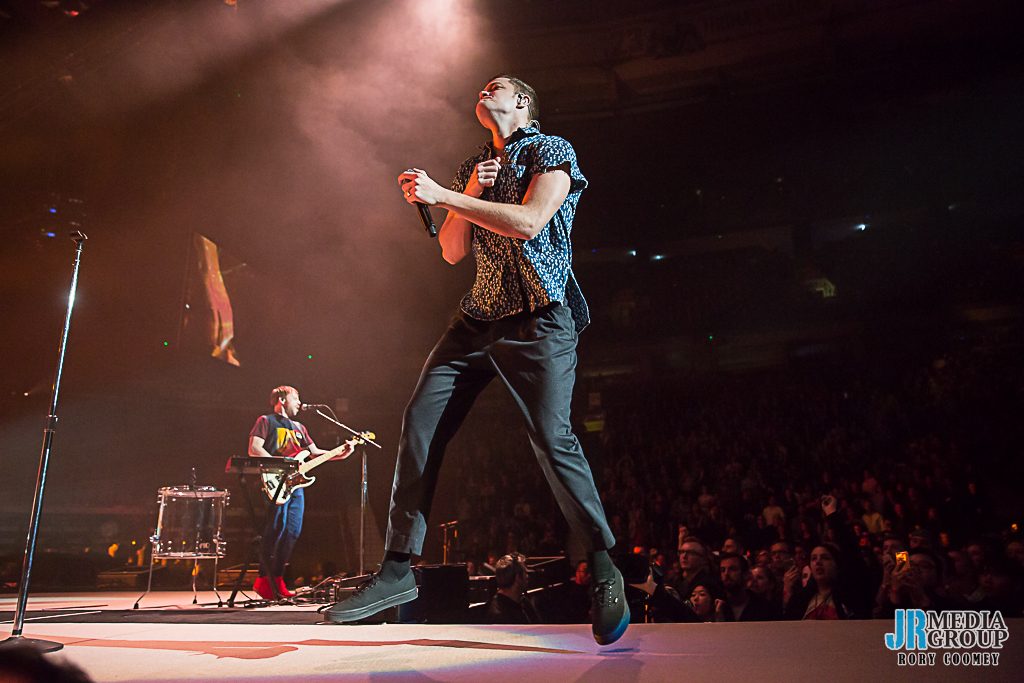 When they sung "Where My Demons Hide" Mr. Reynolds had something to say about this one. "It was a reflection of my depression. Let me just say, depression is not something to be ashamed of. Seeking help made me stronger.  A therapist is not a bad word; in fact, it became my greatest source of strength. Depression does not define me, and I turned to music to help me with that. It became part of my heart, and if you need support, seek help."
On their way to another stage across the arena, they walked up and down the stairs of the first level to the point where this reviewer was within a foot of the main singer. He waved and headed back but not before stealing a boys baseball cap. To which, later on in the show, he was trying to remember the name for the Canadian term toque. I'm not sure if this is a common mistake in the states or not, but let me clarify a point. A Toque is a winter hat, which Canadians tend to wear all year round. All others are hats, baseball caps and whatever name given to describe that hat's function. It was very amusing to the audience every time he mentioned it.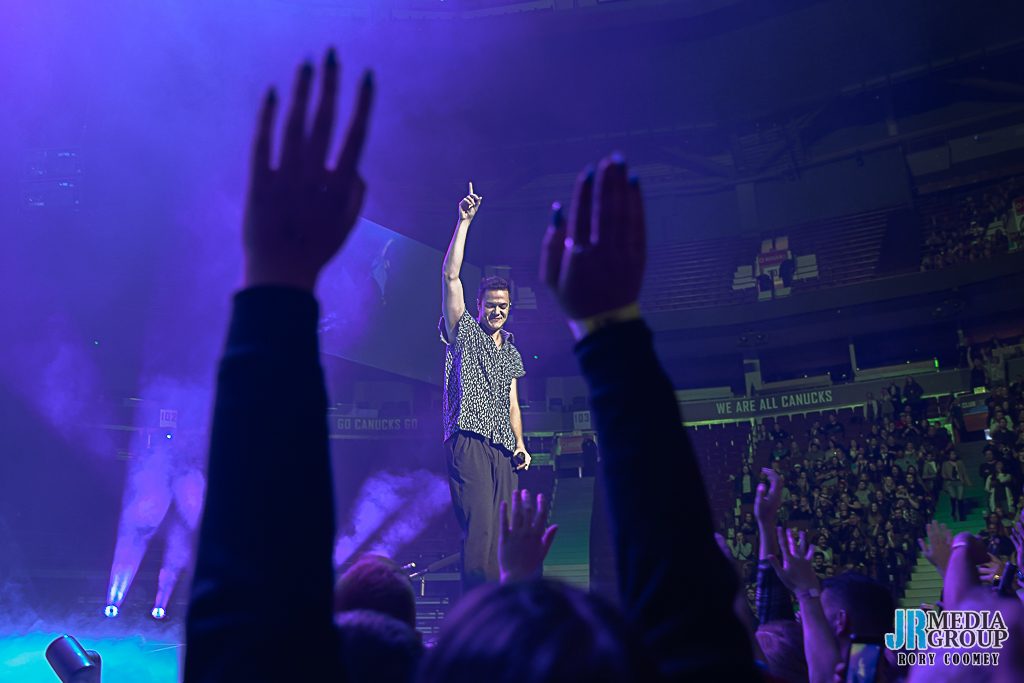 Imagine Dragons also made a wonderful tribute to Tom Petty in memory of him, singing "I won't back down" with cell phone flashlights everywhere.  The cello was used for a few songs and then everyone headed back to the main stage arena, and along the way they made sure that the boy got his "Toque" back. The stage was transformed into the crystal rocks, that lead to what we thought was the final song with tons of cryo guns going off and lights all over … "Radioactive"
They did an encore after the audience cheered them back with another two to three songs. The night ended with another shot of confetti as they said  "Goodnight."
Photos Done By Rory Coomey
Review Done By Sarah Diamond
Photos are not to be copied or saved to your computer without written permission from JR Media Group and Rory Coomey Photography